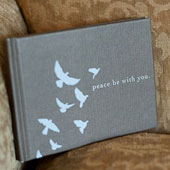 BOOKS
Beautiful books filled with encouraging words of sympathy, and notebooks to help the bereaved through their loss.
JEWELRY
Lovely winged necklaces will convey comfort and sympathy to those who grieve.
These beautiful hammered silver rings and bracelets that contain secret custom messages. A favorite passage, a meaningful phrase - keep the precious sentiments of a loved one close to you always.